Welcome to the Faculty of Law ….
Studying at the Faculty of Law (FLD) of the Université Catholique de Lille, means being part of a centre of excellence in the field of Law and its teaching. Created at the foundation of the Université Catholique de Lille in 1875, the Faculty reopened its doors in 1993 and subsequently opened up in Paris in 2009. The FLD offers its 1850 students across two campuses the guarantee of optimum working conditions as part of the key to success. Students benefit from a variety of study programmes available from bachelors (3 year degrees) to Masters (Years 4 & 5 for full Master), preparation for competitive entry exams as well as University degrees.
All of our degrees are recognized by the French State in agreement with Université de Toulouse 1 Capitole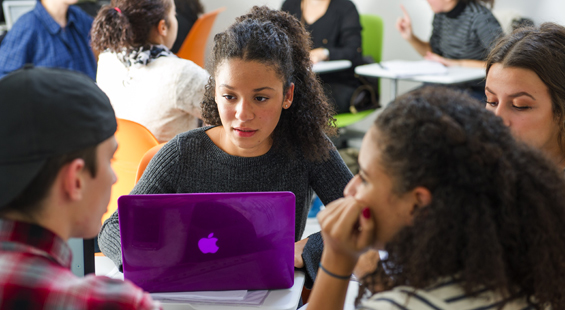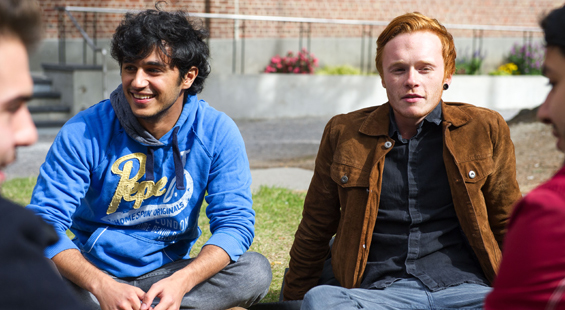 Every year our students have the advantage of studying in a privileged learning environment which contributes to developing a friendly and stimulating working atmosphere unique to our college:
Reasonably sized year groups

Sociable atmosphere

An available administrative and teaching body that's ready to listen

Individual coaching and support

Cutting edges degree programmes that are up to date with the needs and evolutions of the market
Innovative teaching and learning techniques

Courses favouring interaction between lecturers and students

Career building assistance

International opportunities

A rich and dynamic student life
FLD in figures
68 % pass rate in first year

87,5% find jobs within 6 months after master graduation

1850 students across 2 campuses

450 maximum lecture theatre capacity in Lille, 200 maximum lecture theatre capacity in Paris

25 students in each supervised work group

8 weeks of mandatory internships during bachelors, 2 -3 months minimum at Masters level

21h of contact hours on average per week  (all tracks)

18 nationalities across both campuses

27 FLD Erasmus partnerships and 140 worldwide exchange agreements within the University
Our international programmes
2
dual degree programs with business schools
1
PrépAvocat (preparation for bar exam)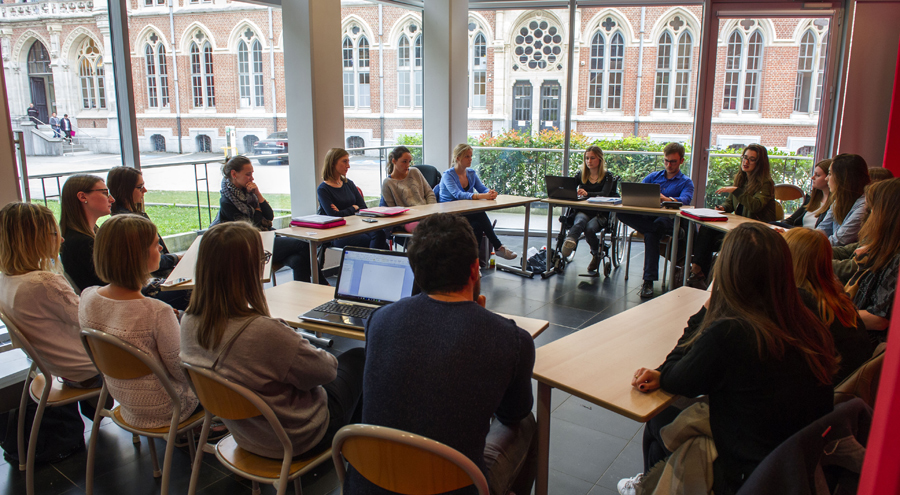 A choice that grows year after year 
Proving to meet the expectations of the professionals and the demands of the job market.
All of our teaching programmes at the Faculté de Droit are supported by our research centre on the relationship between risk and law (C3RD) contributing to the formation of a theory of legal risk centered around two principal axes: the risks of the law and the management of risk by the law. A number of events are organized throughout the year for our students as well as for the general public such as workshops, conferences and international symposia.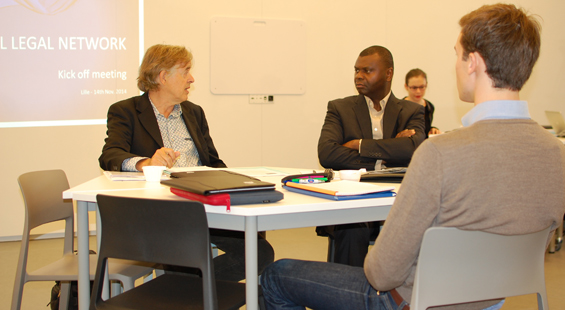 A privileged working environment: 2 campuses (Lille & Issy-les-Moulineaux)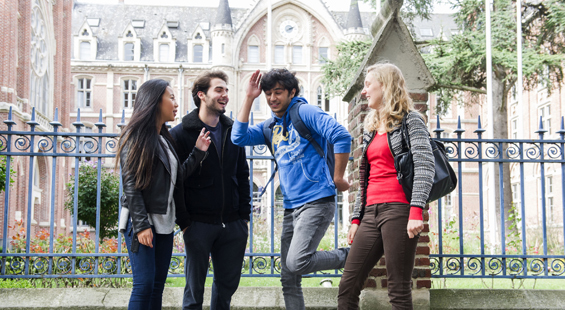 Lille, a multi-disciplinary campus in the heart of the city
The Faculté de Droit is a member of the Université Catholique de Lille. In 2nd position in the top 10 « most attractive French Universities* », « La Catho » is a renowned institution at the local, national and international level known for its quality of teaching, research and student services. Over 28 000 students come together in this leafy student quarter in the heart of Lille.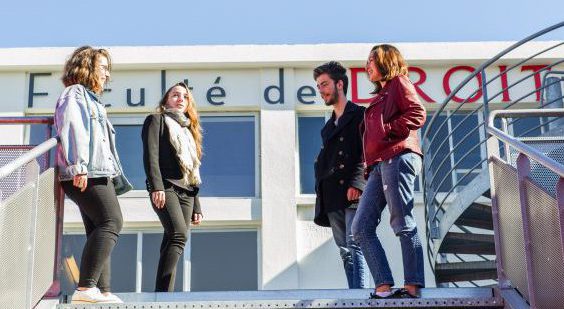 Issy-les-Moulineaux, a campus dedicated to legal sciences
Completely renovated in 2013 and located in the centre of Issy-les-Moulineaux, students of FLD Paris benefit from a unique living and study environment on a campus dedicated to legal sciences with a cosy, friendly and convivial atmosphere.
A personalised educationnal support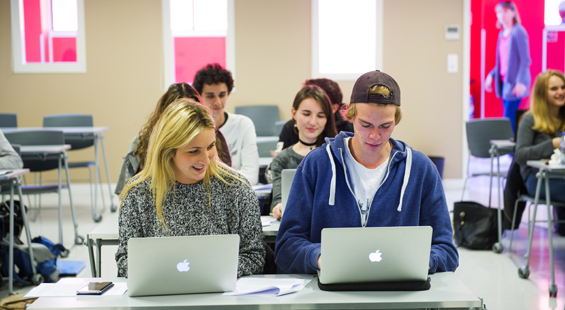 Reasonably sized year groups
At FLD students benefit from unique working conditions with human scale year groups which encourages personal fulfillment and leads to greater success.
In Lille, the Faculty counts over 1400 students from years 1 to 5 (480 maximum in year 1), in Paris there is an intake of around 400 students each year (200 maximum in Year 1) across the 5 years of study.
Everyone progresses in a friendly, convivial environment designed to create a real spirit of cohesion and community.
An attentive and available teaching and administrative team
With over 70 permanent staff members (12 on Paris campus), the Faculty privileges the individual support of students. Each year group is assigned to a track coordinator and has an administrative representative available to them in order to facilitate the exchange of information, favourise dialogue and find solutions to any problem encountered. 
Support is the key to success
450
students in year 1 in Lille
200
students in year 1 in Paris
25
students in each supervised work group
68%
success rate in year 1 and 100 % in masters (year 4 and 5)
21 h
of contact hours on average per week
3 months 
of mandatory internship in years 4 & 5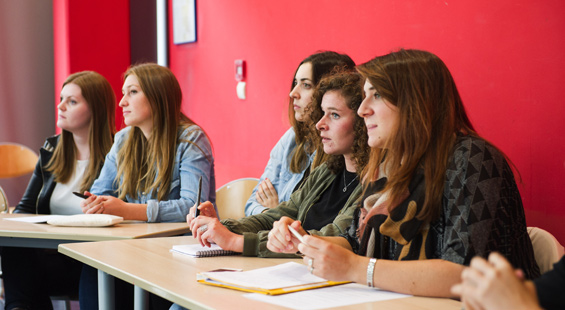 A smooth transition from high school to first year of university
In the first year the transition unit gives students a chance to discover two so far unknown new universes:  Law and University life. During the first 3 weeks, the introduction courses of the transition unit allow students to familiarize themselves not just with the world of law studies but also with the organization and the way university works which is very different from a high school or lycée.
At the end of these 3 weeks the students are given a first exam in order to make sure they have acquired the basics of Law.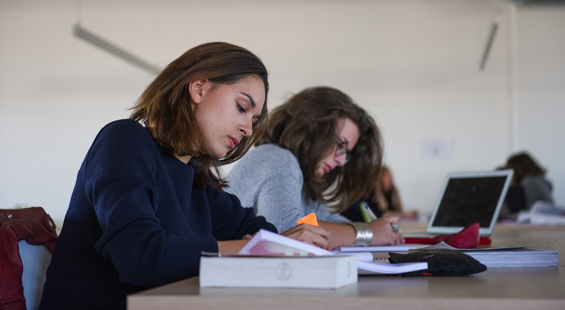 Regular knowledge tests are one of the guarantees of our students success. Every semester counts 50% of continuous assessment (quizzes, coursework, exposés, participation, mock exams … ) and 50% final exam grades.
Twice a semester, mock exams allow students to be evaluated under real exam conditions in preparation for the final test. They receive detailed corrections and explanations from their tutors.
In order to accompany our students in the best possible way, the FLD proposes coaching sessions. Those who wish may also make an appointment with a lecturer in order to find solutions to problems of organisation, understanding or use of knowledge. 
Success rate 2015/2016
LILLE

Year 1

66%

Year 2

85%

Year 3

96%

Year 4

100%

Year 5

  PARIS

Year 1

70 %

Year 2

90 %

Year 3

100 %

Year 4

100%

Year 5

100%
Innovation at the heart of our pedagogy
Since 2014, Our faculty has proposed cutting edge teaching and learning methods that differ from traditional approaches. This innovative pedagogy places the student at the heart of his or her course, the student becomes the driving force of his or her learning and is motivated towards greater success. 

Encourage interactivity during classes between students and lecturers.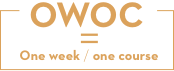 Ease the acquisition of legal notions by associating theory and practice in the same week.

Allow students to acquire the basic notions resulting from personal reflection after studying their « pre-read »

Develop responsibility and autonomy
Develop the students' general culture
In order to give students what is essential for their personal and professional development, the bachelors program includes « Culture and Humanities » seminars: these learning tools are designed to open students minds to general culture and represent an indispensable advantage when it comes to preparing certain competitive entrance exams.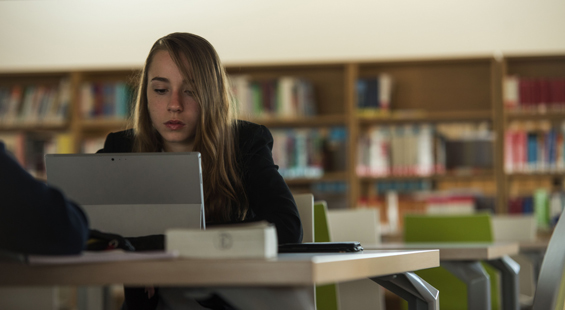 Learn documentary research skills
Being a law student involves excellent knowledge of research methods for libraries and legal databases. It is for this reason that from bachelors to masters, our students are regular users of digital research tools thanks to the University's Digital Network Library ("Bibliothèque Numérique en Réseau" (BNR)).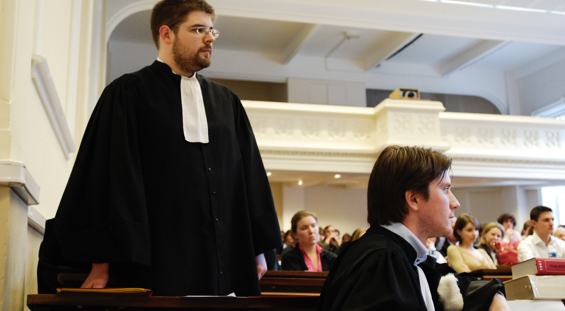 At the « Law Clinic » all students regularly have the opportunity to develop, their professional know-how (how to manage a legal consultation, how to draft a court decision …) supervised by a team of lecturers and legal professionals in association with L'Ordre des Avocats du Barreau de Lille (Lille Bar Association), students can practice so they can be perfectly operational and ready to go in the field when it comes to first internships or first jobs.
The Law Clinic also includes …
Participation in national and international moot court competitions such as Habeas Corpus, Concours Cassin, Jessup…

Mock trials

Drafting and publication of journalistic articles dealing with legal problems for the general public 

in partnership with La Croix du Nord (one of Lille's major newspaper)

Law in action in Master II (year 5)

Devising TV and Radio chroniques

Field trips
A great way to witness and understand the reality of the legal profession and to gain the right tools for your professional future.
Armelle, Bachelors I Law and Political Science
Realizing your professional project
Learning law through theory and practice comes from the faculty's strong desire to support and help students find and reach their professional goals all through their studies.
To do this, the Career Centre has put in place a number of professionalisation measures suited to each study level and each student's career goal.
87,5% employment rate within 6 months of graduating from Master II (year 5) .
3 months
of mandatory intership in years 4 and 5
Practical
case studies, concrete projects, business games…
8 
mock trials or public speaking competitions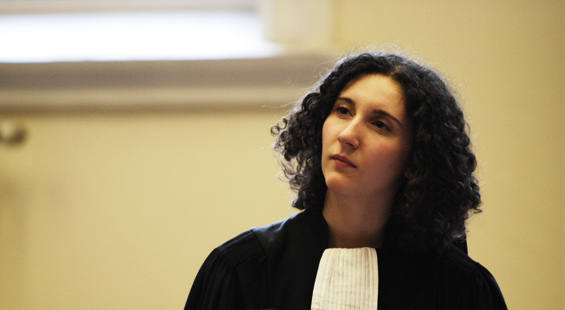 Unlike in many other universities, the bachelors program includes a minimum of 8 weeks of mandatory internship: this makes a difference in our students' profiles when applying to Masters. During years 4 & 5, the internship can vary in length depending on the subject (between 2 and 9 months).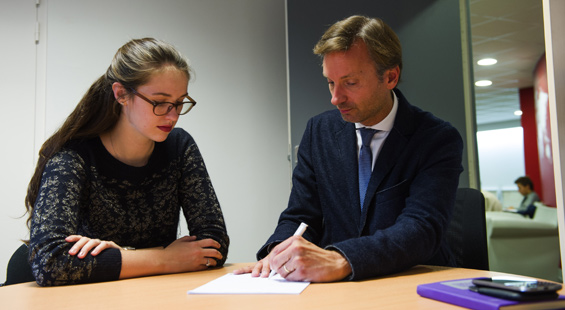 The Career centre helps students achieve their professional goals in many ways:
CV/ cover letter workshops 

Individual counselling

Professional encounters 

job-dating
The importance of networking
The Faculty has partnerships with a number of companies, organisations and professional networks (AFJE, Ombudsman, GHICL, French red cross, law firms, Préfecture, …) including our own Alumni association which organises networking events and get-togethers between past and present FLD students on a regular basis.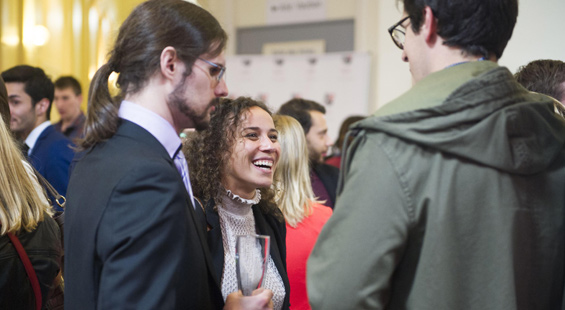 The FLD has developed a department dedicated to international matters: the International and European Law School (IELS), in order to respond to students expecting changes in the market. The IELS is responsible for multilingual programs, as well as maintaining and forging international partnerships.
18 nationalities 
represented on 2 campuses
2 campuses
ideally situated between European cities Brussels, Lille, Luxembourg, Paris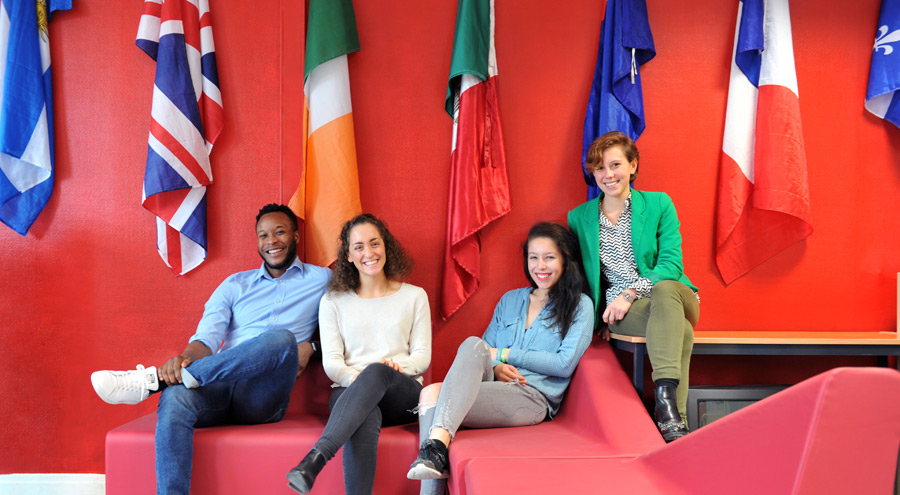 Multilingual and multicultural programs
These programs for bachelors and masters years aim to train legal professionals to work in different languages and develop a real international, professional sensibility.
Visiting professors
These professors come largely from foreign partner universities and international teaching institutions dedicated to original learning methods and aim to help students understand the reasoning of jurists from different countries such as UK, US, Germany, Netherlands etc.
Studying abroad
Possible at Bachelor level (Year 3- euro programme) and master level (year 4)  through the ERASMUS program or agreement with one of our partner universities (in Europe or around the world). 
Take the US Bar exam
It is possible for students in International and European Law Masters to take the US bar exam (partnership with Mississippi College of Law).
Student life and Associations
The quality of the student life is one of the greatest assets of our faculty providing an unparalleled atmosphere on our 2 campuses. Each year new associations are created. There are now 38 on both FLD campuses.
38
Associations in Lille and Issy-les-Moulineaux
200
students are now members of associations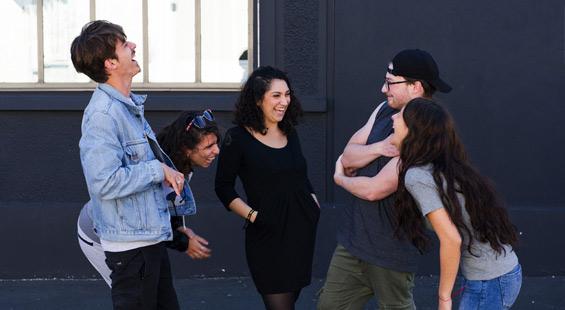 There are many varied activities to choose from, each contributing not just to the personal fulfillment of the students but also to the overall atmosphere of the campus. 
Bureau des étudiants (BDE) 

Students Union

Bureau des Sports (BDS) 

Sports Association

Humanitarian Associations

Artistic Associations: Music Groups, Photography & Video
Public Speaking Competition

College Newspaper

Wine tasting initiation, etc.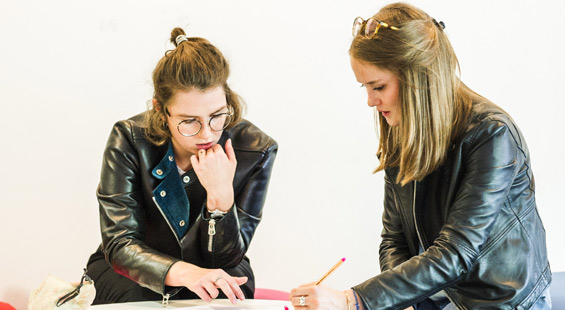 Enhancing students' commitments
The extra-curricular activities and student association experience, be it cultural, sport-based or humanitarian, help our students develop invaluable human and professional skills. This faculty holds firm this commitment at the heart of the educational project by valorizing them in the curriculum.  
All of our student associations and initiatives are instrumental in making our campus a friendly, welcoming environment where everyone can find his/her place.
Students with disabilities
The Université Catholique de Lille takes the reception of people with disabilities extremely seriously. In order that anyone may pursue their studies in optimal conditions, the University has created the (MAH) Disabilities Reception Mission.
Specific and adapted measures have been implemented within each establishment:
For those who have a mobility impairment which prevents handwriting

For those who have difficulties with oral expression or dyslexia

For the visually impaired

For those with hearing difficulties